The Shoppes of Heritage Village 657 N. Citrus Ave. Crystal River, FL 34428 (352) 564-1400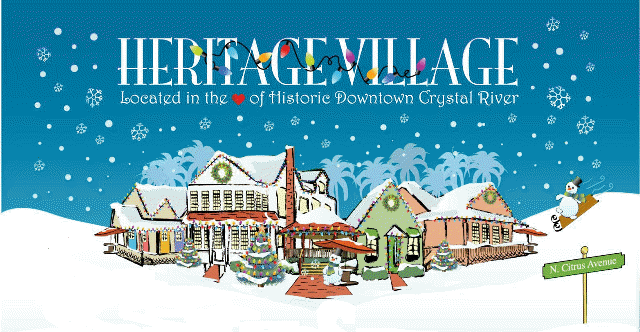 2nd Annual

"Let It Snow" Festival

at Heritage Village

December 19th 10 am - 9 pm

The 2nd Annual "Let it Snow" at Heritage Village is this Saturday, Dec 19th, 10 a.m. till 9 p.m.. This is a family event that you won't want to miss.

Ride like the Wisemen did on "Live Camels" throughout the day... and evening. Sledding down Snow Mountain is a thrill for boys and girls of all ages. The mountain opens at 4 and sledding until 9 p.m.. Ponies, Rock climbing and bouncing house will be a part of the festivities as well.

A little Elf told us that Santa and Mrs. Claus will be joining us and Santa's workshop will be open with Arts & Crafts until 5 p.m..

A day full of fun, food and SNOW for the family right here on the grounds of Heritage Village, in the heart of historic downtown Crystal River, Citrus Avenue. For more details call 352-564-1400.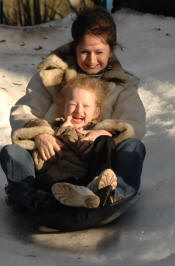 Hundreds of people attended this event which was part of the regular 2nd Saturdays Market Day with  Art on the Grounds of Heritage Village. 

In this photo a mother and daughter enjoy a ride down the snow slide !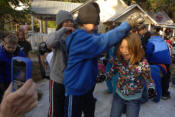 Cole Baldner Age 10 drops some "Florida" snow on his sister Montana, Age 8

"In the News"

By Cheri Harris

Citrus County Chronicle 12/19/2009

Holiday events continue to sparkle this weekend, so trade the stress of last-minute shopping for a little seasonal excitement.

* Heritage Village will bring back its popular "Let It Snow" event from 10 a.m. to 9 p.m. today in Crystal River. The snow will be ready for sledding from 4 to 9 p.m. Other highlights include Market Day with Art vendors, a food court, live Christmas trees for sale and a special appearance by Santa and Mrs. Claus. Heritage Village is along North Citrus Avenue. For information, call 564-1400.