The Shoppes of Heritage Village 657 N. Citrus Ave. Crystal River, FL 34428 (352) 564-1400

Heritage Village in downtown

Crystal River hosted this Year's 22nd Annual Scarecrow Festival

held on Saturday, October 17, 2009

It was another great success and we look forward to seeing you again next year.  Further information on dates to follow.

This event was created with the intentions of Community involvement for our children in mind. Because Crystal River supports so many non-profit groups, we decided years ago to offer our grounds to bring back an old fashioned Carnival concept. With Fall in the air and Halloween around the corner, this event gives an opportunity for non-profit groups to raise money (for a minimal set-up fee) by manning booths of their choice, with an old fashion flare preferred. This event tries to reach children of all ages with booths such as the ping pong toss and winning a golf fish, to dunking your coach in the Dunking Booth. Pony rides for the tots to Haunted Hay Rides for those who dare after dark. We feel this is a safe way to bring back the experiences we as parents remember, and want our children to experience. Parental Supervision a must.

The Shoppes will be in full swing of fall with Scarecrows on Display and Pumpkins covering the grounds (a Methodist Youth Fund Raiser). Be sure to step inside each shoppe to see what creative fall flavor they have added to their inventory.

This year the village hosted a "Scarecrow Building Contest" throughout the week prior to the Scarecrow Festival, with a first place cash prize of $100.00

For more information contact Hotheads,

the Art of Hair at 352-563-0068.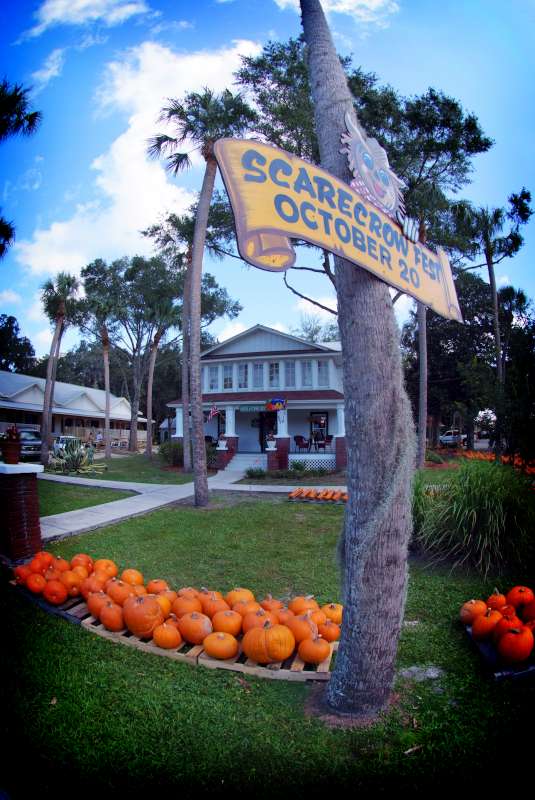 Scarecrow Building Contest Winners

1st Place Winner

by Popular vote was "Hanna" a Lecanto High School Student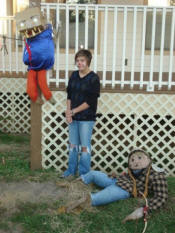 2nd Place Winner

Sharon Bowman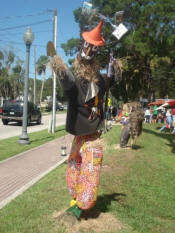 3rd Place Winner

was Jessica Tolle themed "Yippeeee

we just closed on

a house with

Century 21"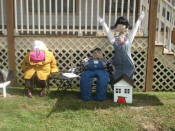 Honorable Mention

went to Katherine and Katherine, who happen to be room-mates sharing the same name.  They built these adorable scarecrows with a little help from their daughter / daughter-in-law.